New Year's Holiday
Celebrate with Family & Friends at The Carlton
Celebrate the end of this year and welcome in 2024 at The Carlton. We've a three night, New Year's Eve stay and Gala Dinner and Dance package to get you started.
Contact us today for our accommodation offer.
Our New Year's Eve Gala Dinner and Dance commences at 6:30pm with chilled Champagne and canapés.
Saturday 30th December
Arrive mid afternoon in Ilfracombe, check in from 3pm. Settle in to your room, then enjoy afternoon tea or coffee with cake in our lounge.
A three course dinner is served from 6pm in our Brasserie. Afterwards, relax in our lounges, library and bar and meet your fellow guests.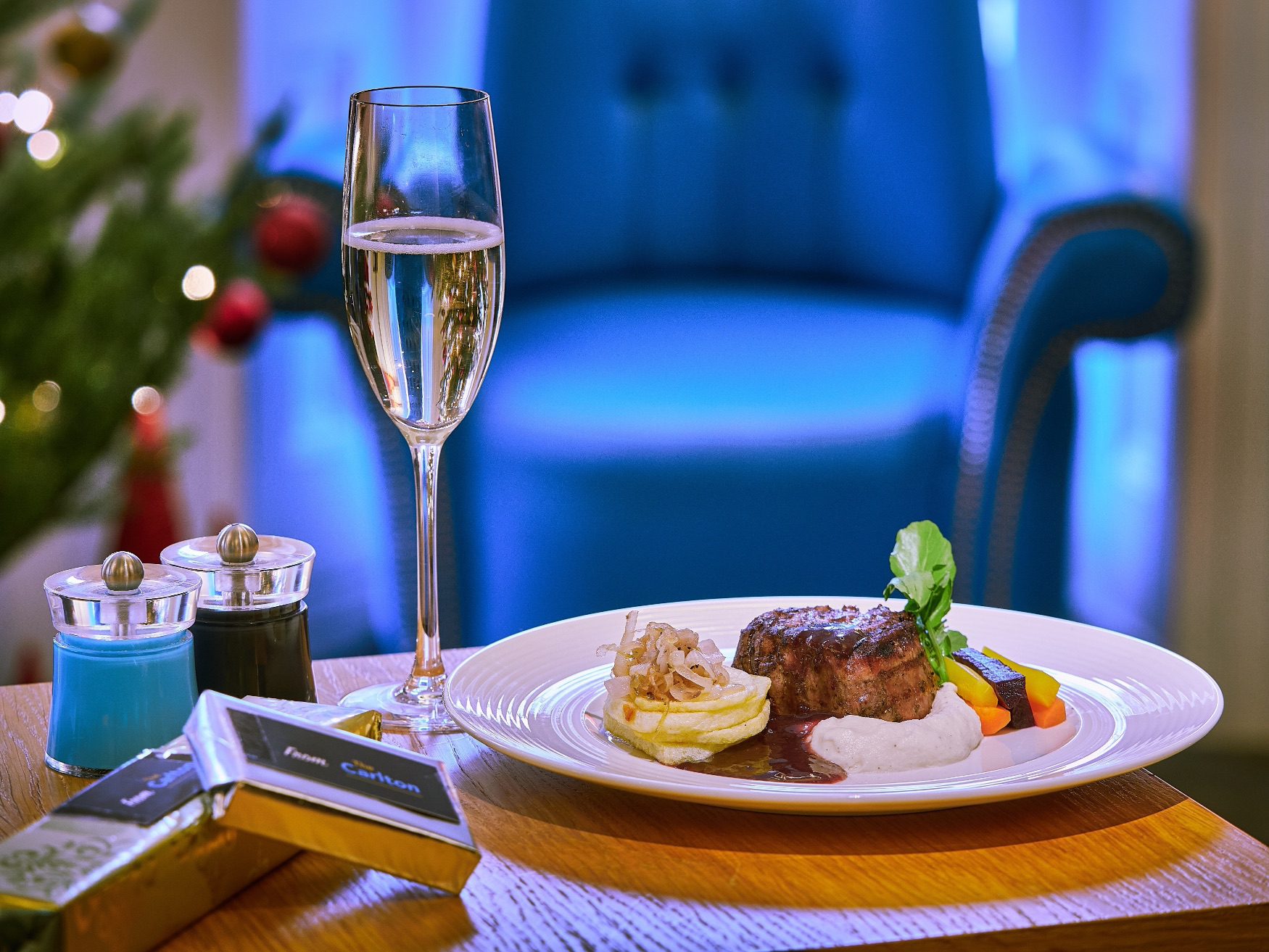 New Year's Eve
A Devon breakfast is served from 8am. Freshly cooked hot choices plus a fresh Continental selection from the buffet.
Afternoon tea is served in the lounge at 3pm. After which you have time to get ready for our Gala Dinner and Dance.
Join us at 6:30pm for a chilled glass of fizz with canapes. At 7pm we start our super six course dinner. Followed by dancing until midnight.
Welcome in 2024 with hot bacon rolls served after twelve.
New Year's Day
Rise refreshed, and enjoy breakfast from 8am. You have the day to explore or simply relax in the hotel. We will have a film on the screen in the afternoon.
Afternoon tea or coffee and hand made cakes served in the lounge around 3pm. Another three course dinner is served from 6pm in The Brasserie.
New Year's Day Lunch
Lunch is optional. We are serving a roast menu on New Year's Day, which is £29 per adult.
Tuesday, 2nd January
Most guests will be heading home today after another great breakfast.
We always advise you to take a more leisurely journey through North Devon, there's no need to start the year rushing home, and there's plenty to explore.
Wonderful NYE stay at the Carlton Ilfracombe
Once again we returned to this hotel, but decided to join in with there New Years Eve offer. Our room was fabulous, the afternoon tea when we arrived was a joy. The evening meal was first class, and served by a wonderful team. Brought in the New Year with champagne and an excellent disco. At the end of the evening, to line our stomachs there was bacon and sausage sandwiches for everyone. New Year's Day was celebrated by a hearty breakfast and a walk by the sea, followed by lunch, and later another really enjoyable evening meal. As always, this hotel excels and both Michael and Eliot made us feel so welcome.
Thank you both, and the team at the Carlton
The Brasserie
Our seasonal menus use the freshest local produce from North Devon's natural larder. Menus adapt to the seasons, so there's always something new to excite your tastebuds!