There is so much to inspire local artists here in North Devon, from quintessential seaside towns and villages that meet charming harbour ports, to small sandy beaches and stunning coastal views, from hilltop paths. Ilfracombe boasts a hub of art galleries, where local artists capture the essence of North Devon.
Art Breaks In North Devon
Having the time to gaze upon beautiful artwork is one of life's sweetest pleasures. That's why here at The Carlton, we love to showcase the stunning works of talented local artists to draw you further into a magical break away, helping you to feel relaxed and inspired. From breathtakingly beautiful seascapes to striking contemporary creations, there's plenty to enjoy throughout our gorgeous hotel gallery. But first, let us introduce you to the makers behind our featured masterpieces…
Local Artists
If you're looking to feel the ferocity of our North Devon coastline, you'll want to check out the work of Paul Swailes. The creator of a selection of stunning seascape paintings, Paul's art is full of drama and will instantly transport you to the eye of the storm, with the wind in your hair and the spray on your face. We also asked Paul to paint the hotel, which we knew we knew was a step away from his usual repertoire and were thrilled with the result.
Paul's on Facebook: https://www.facebook.com/paulswailesartist/
Alternatively, those with an eye for colour will love the kaleidoscopic shades depicted throughout the work of John Woodcock. Born in Chelsea but raised in nearby Lee and incredibly well-travelled, John took his inspiration from a variety of worldly sources – Picasso, sci-fi, and symbolism to name just a few. It's easy to get lost in the vibrant new dimensions that he created.
Find out more about John Woodcock and his art here: https://www.johnwoodcockart.com/
Finally, the dynamic and contemporary artwork of Glen Berning finds its origins in the forces of nature – the rolling hills, the pounding waves, and the rugged moorland, each of which constitute our iconic Devon landscape. The contrasting shapes and blocky colour combinations that compose his signature style are sure to draw you in from the very start
Find out more about Glen Berning and his art here: https://www.instagram.com/glenberningart/
Feeling inspired? Don't wait. For luxurious stays at phenomenal prices, book your weekend break at The Carlton today.
Paul Swails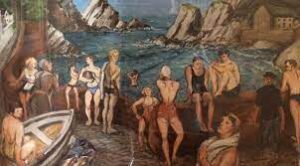 John Woodcock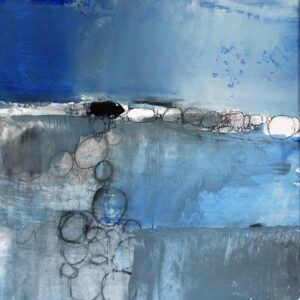 Glen Berning
The Ilfracombe Art Trail
While our gallery walls display the exquisite works of just a few of Ilfracombe's most gifted artists, there are plenty more to discover. A fantastic way to do this is by booking a break for The Ilfracombe Art Trail – an open-house art event that for one weekend a year, stages an eclectic mix of arts and crafts made in the heart of North Devon.
From 13th – 14th May 2023, artists, makers, and galleries from across the town open their doors and invite you in to join them on a journey of awe and discovery. From paintings, sculptures, and prints to photography, jewellery, and ceramics, this quirky trail promises a feast for the eyes that we promise will get your creative juices flowing!
Along with having the chance to explore Ilfracombe via the trail, visitors can also see a wide range of venues and talk to each individual artist about their creations, obtaining a first-hand insight into some of the most unique artworks to grace our Devon shores.
Feed Your Creativity At The Brasserie
Before heading out on your arty adventure, be sure to visit The Brasserie – our stunning in-house restaurant – to kickstart your day with a deliciously lavish breakfast. While our full English breakfasts are lovingly prepared with only the freshest ingredients, the lighter options on our menu including our crunchy homemade granola or our delicately poached haddock, are sure to delight.
Alternatively, finish off your day of exploring with a magical meal made with locally-sourced produce and bursting with flavour. From nostalgic dishes to one-off creations, our exclusive menu promises something for everyone and offers a taste experience like no other that is sure to leave you wanting more. Pair this nicely with a bottle of house wine or a locally-brewed ale, and your dining experience at The Brasserie will be complete!