A Taste Of North Devon's Wrecks
The North Devon coastline has so much to offer; broad sandy beaches, cliff top walks, amazing dune networks, smuggler caves and many shipwrecks, some still to be discovered.
The local coastline is celebrated for its beauty and tranquillity, but lying just beneath the surface are many reminders to how treacherous and deadly the sea can be, with a fantastic history of shipwrecks.
The numbers of wrecks left are too many to list, especially after thousands of years of sea navigation around our spectacular coast, but we've detailed a few for you to have a salty taste. Some lie like skeletal shoals of fish, some have spilled cargoes lining the seabed, some reveal themselves at low-tide and some are buried under the very sand we wander along.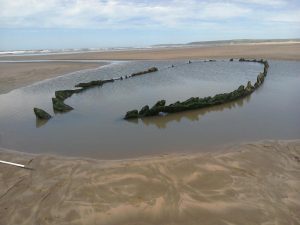 North Devon Shipwrecks
There are some amazing maps of the ships that have perished on the Shipaground website, detailing the many just around Ilfracombe, our immediate coastline. Also, check the nearby Shipwreck and Smuggling Museum, in Hartland Quay.
There are wrecks of all ages around our coastline. In the early 1900's Cardiff was an extremely busy port, sending more than 300 ships a day past Ilfracombe. Without the modern-day safety precautions, many sank through collisions or unmarked rocks. Local dive clubs are discovering new wrecks every year.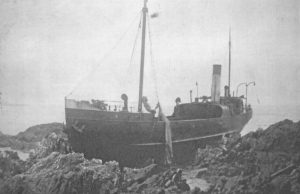 Mortehoe Shipwrecks
A beautiful village but closely surrounded by Morte Point, Baggy Point and Rockham Bay, all seeing shipwrecks in storms. While you're staying with us, we'd recommend a stroll along to Rockham Bay to examine the wreckage of the S.S. Collier, perishing here on the 28th January 1914 while on her way from Milford to Avonmouth.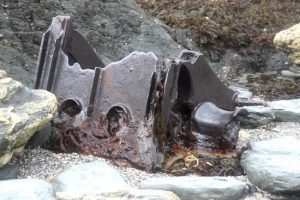 S.S. Collier
At 2.30am coastguards were alerted and dispatched the Ilfracombe Lifeboat. The seven crewmen, ships dog, cat and goldfinch had managed to board the ships dingy by the time they arrived. The S.S. Collier was one of the first steamers to carry mail to Australis.
While easy getting to the beach, it can be very hard to walk back up, something to be mindful of. You can easily spot the wreckage of the boiler from the cliff paths, and this is a great guide to wreck spotting once you are on the beach.
S.S Priestfield
The S.S Priestfield ran aground here, just south of Mortepoint on 8th of May 1912, at Slipper Rock, on her way to Barry in Wales, from Antwerp.
Extract from Coastguards Log

"May 8th 1912 S.S. Priestfield of Newcastle from Antwerp, bound to Barry in Wales for orders. Stuck on Slipper Rock (south of Morte Point) and remained. Her keel being visible from the shore broadside on. The watchman heard unusual sounds at 12.10am. The watchman J. Parkerson and Samuel Yeo climbed round the rocks and found the position of the Steamer. Returned and called Rocket Brigade. I notified the coastguard at Ilfracombe at 12.50am. Started with waggon at 1am arriving at the ship 1.15am. Weather very thick fog and rain. Asked if they required a line, they answered 'not yet'. We stood by her until noon. Returned at 12.15 noon. A small tug (the Devonia) tried to tow her off. The steamer used her own propellers at the same time. She was unsuccessful. At 9.30pm resumed towing by four large tugs that had arrived from Cardiff and got her off at 11.50pm. The chief mates' wife left the ship and came ashore over the rocks."
S.S. Newton & H.M.S Weazel
Both also perished here, H.M.S Weazel taking all 106 of her crew with her. Nothing here to see, just the blissful waves holding their secrets, but look about in the village for anchors and guns, many memories treasured.
H.M.S Montagu
One of the most famous local wrecks is H.M.S Montagu, probably due to its protected status.
A battleship built to counter similar Russian boats, with considerable firepower, was conducting secret communication trials when she ran aground on Shutter Rock, Lundy Island, on 30th of May 1906. Both the captain and navigator were court marshalled for the navigation error that caused the large boat to take a 28m gash on her starboard bow.
Not much is left at the wreck site, bar plating on the seabed and steps carved from the rock to reach the site.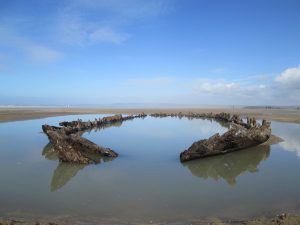 Westward Ho! and Northam Burrows
It's not much to look at, and often covered by sand, but this North Devon shipwreck is more than 200 years old. It is thought to be a Severn Trow, an 1800s merchant boat that worked the Bristol Channel.
The wreck has been exposed and reburied many times, deep in the sands and lying on an even keel. It is believed to be the Sally, lost in 1769.
North of Westward Ho! Is a very similar Severn Trow wreck, around 200 years old, harder to spot but definitely a point of special focus if you're wandering these beaches.