North Devon has some of the most memorable and unspoiled beaches in the UK. Miles of golden sands, pebble ridges, world-class surf and amazing sand dunes.
We have so many amazing beaches within a few minutes' drive of Ilfracombe, perfect for the family, couples or solo traveller, many dog-friendly, most easily accessed by car.
We love North Devon. We love our beautiful coastline. And, we'd love you to enjoy it all with us.

Saunton Sands
Saunton boasts over 3 miles of amazing sandy beach, backed by the impressive Braunton Burrows, a UNESCO Biosphere Reserve and always spectacular. Absolutely loved by locals and visitors. The long straight stretch of beach is perfect for swimmers, and the voluntary patrol by Saunton Sands Surf Life Savers is second to none, available over the summer season. Families can feel safe between the highly visible flagged area. This is a popular beach with surfers and other water-sport enthusiasts, especially for beginners and long-boarders. The surf being easy and mellow, it's perfect for getting the kids on boogie boards or skim-boarding. Avoid swimming near the rocks and everybody will be fine, it's a huge beach. You'll see the more experienced surfers there, the rip drags them out into the water much more easily.
Saunton Sands beach is family safe and very dog-friendly, open to our four-legged friends all year round. We recommend you do supervise children while in the water though, there's a rip current against the rocks year-round.
There's a range of food outlets and beach shops, along with toilets and even surf showers, all alongside the pay and display car park. With a beach restaurant and bar to boot.
Crow Point
If you wander far enough along Saunton Sands Beach, you'll come across a lighthouse, a wreck at low tide and the beautiful Crow Point. You'll also discover views across the Taw & Torridge estuary, as well as Westward Ho! and Instow beaches. There's also an amazing caravan that sells dog-friendly ice cream, flavours include 'old sock'. And if all of this isn't enough, Saunton Sands is where Robbie Williams filmed the video for his Angels video and where Pink Floyd filmed flashback scenes for 'The Wall'.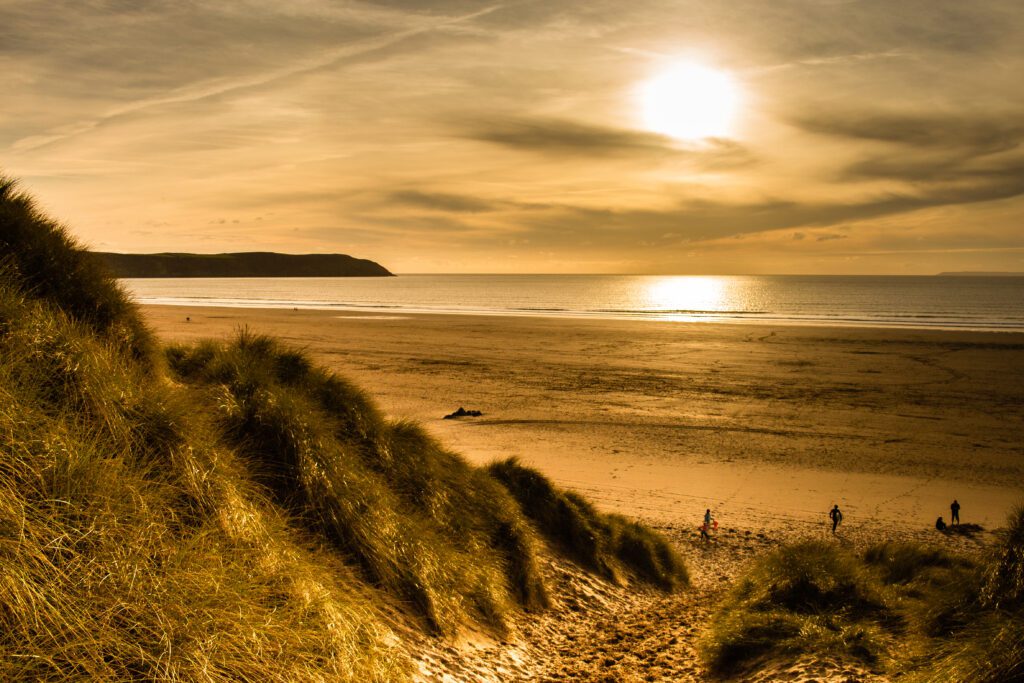 Woolacombe Sands
Voted the best beach in Britain so many times by Tripadvisor, Woolacombe Beach is one of the finest beaches in the world. Woolacombe Beach attracts thousands of visitors to its miles of golden sands every year. Miles and miles of sand, which means there's always a quieter stretch of beach to make your own, even in the peak of the school Summer Holidays.
The Atlantic throws unbroken rolling waves to crash on to three miles of shoreline, making Woolacombe Beach a surfer's paradise. Beginners and experts come from all over the country. RNLI Lifeguards ensure safe family swimming during the summer months too, with clean water and great waves.
Dogs are welcome on Woolacombe Beach, all year, but some minor restrictions apply over the summer months.
Putsborough Sands
On the far side of Woolacombe Beach, with a spectacular backdrop of cliffs and rocks that form Baggy Point, you'll find the quieter Putsborough Sands. Amazing water clarity, beautiful surf, it is a favourite of locals and walkers, and families with young children and plenty of rock-pools, of course. It's very popular with surfers looking for a quieter wave too.
The long sweeping bay is renowned for its cleanliness and beauty, superb for swimming and bathing. And a place to beat the crowds when compared to the busier Woolacombe, Croyde and Saunton. There are steep steps down to the beach, so not recommended for those with mobility issues.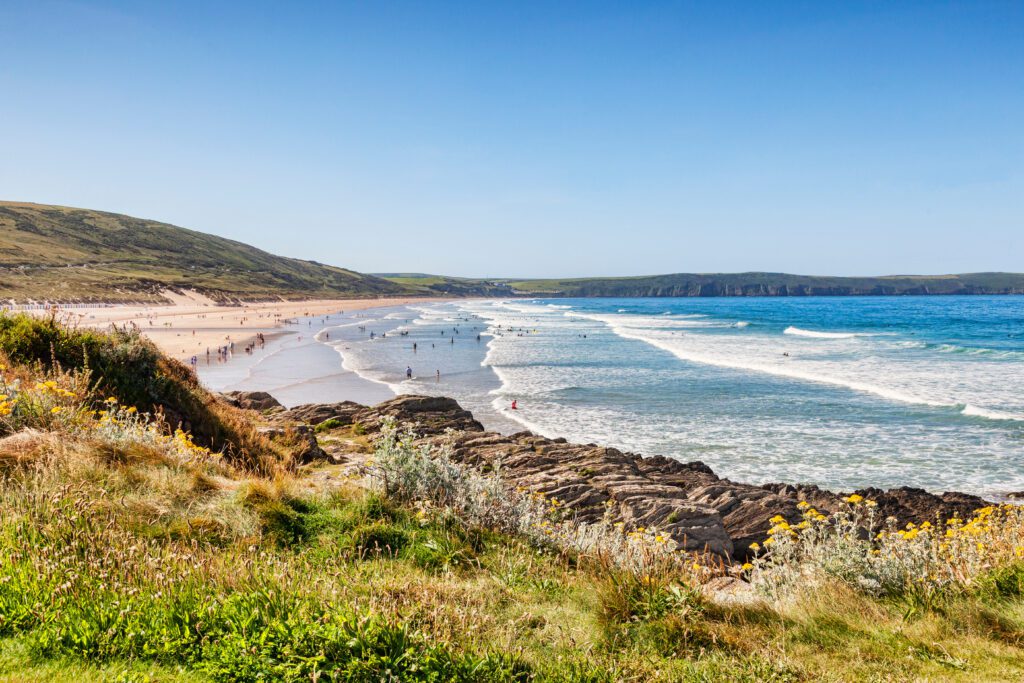 Croyde Bay
Croyde Beach is one of the best surfing beaches in the whole of the UK. Surfers from all over the world, flock here throughout the year. In summer months it can get packed with surfers, families and holidaymakers giving the whole village and bay a lively atmosphere. Amazing rockpools, backed by dunes, a stream and pool dissecting the beach, limestone kilns, with facilities close to hand it has a fantastic mix of everything. With several footpaths and car parks at either side of the bay. Down End car park, National Trust and in the centre of the village.
This beach is for the experienced surfer and is heavily patrolled by RNLI Lifeguards during the summer months. Only swim between the flags as it's unsafe to do so anywhere else. There are strong rip currents on both sides of the bay and it can be very easy for an inexperienced surfer to get into trouble.
The rip currents can move, depending on shifting sand banks so never leave children unattended in the water, and never play where the waves aren't breaking; good advice to avoid the hidden currents. Please pay attention to any warning signs.
Baggy point is a locals' favourite, the headland between Croyde and Putsborough then onto Woolacombe. A meandering but picturesque coastal path will lead you around some of the most spectacular scenery in Devon.
Dogs are only allowed off season, between October and April.