Along with our local suppliers, we celebrate British Food Fortnight. (Photo credit: Becky Craven)
At a time when the British food industry faces unprecedented challenges, from declining exports to the EU to the economic impact of Brexit and the war in Ukraine, there has never been a more crucial moment to champion British food.
British Food Fortnight is an annual event organised by Love British Food. Now in its 22nd year, the event offers the perfect opportunity to celebrate the diverse and delicious culinary offerings of Great Britain. At The Carlton Hotel, we're passionate about supporting and championing our local, seasonal, and British produce.
The Essence of British Food Fortnight
British Food Fortnight 2023 runs from September 16th to October 1st and we are embracing the opportunity to share our passion for sourcing, buying, and serving locally-produced British food.
This time of year is very special and it's a time-honored tradition for communities to come together and celebrate the harvest. At our hotel, we're proud to be part of this harvest celebration, shining a spotlight on the rich tapestry of flavours that the British food scene has to offer.
Our Passion for Local Ingredients
Eliot, our co-owner and head chef here at The Carlton, is a true advocate for British ingredients. Since buying the hotel in 2015 with Michael, they have transformed it into a four-star establishment and focused on working towards culinary excellence.
Eliot is always talking about how grateful he feels to have direct access to what he calls "North Devon's larder." From fresh fish landed in the nearby harbour to high-quality meats and regional groceries, he enjoys working closely with local suppliers who have his best interests at heart when it comes to helping him pull together his menus.
The Freshness Advantage
One of the key advantages of sourcing locally is obviously freshness. For instance, the fresh seafood available in Ilfracombe is caught on day boats and landed daily, ensuring the highest quality for our guests who come to dine in the Brasserie. Nathan Townsend is the Director of The Devon And Cornwall Fish Co which supplies all our fish and seafood. For Nathan, one of the big advantages of sourcing fish and seafood locally is the superior traceability and reduced carbon footprint. We always know exactly how and where our fish was caught and it barely travels any distance at all to reach us.
Supporting the Local Economy and Environment
From premium Exmoor Beef to expert advice on seasonal produce, our network of local businesses contributes to both the local economy and environmental sustainability. By minimizing transportation distances by choosing local suppliers, we help to reduce the carbon footprint associated with food production and distribution.
Ilfracombe: A Foodie Paradise
Over the years, Ilfracombe has emerged as the gastronomic heart of North Devon, boasting a vibrant food and drink scene. The town's "foodie quarter" on Fore Street and the abundance of dining options around the Quay make it a haven for food enthusiasts. Whether you're a seafood lover, a fan of West Country meats, or simply seeking local, fresh, and delicious ingredients, Ilfracombe has something for everyone.
A Special Menu for British Food Fortnight
Photo credit: Becky Craven
In celebration of British Food Fortnight, Eliot has crafted a special menu featuring delightful dishes like St Austell mussels, Appledore plaice, Devon crab, Exmoor ham, Braunton beetroot, and Exmoor National Park beef. It's a testament to the incredible flavours that can be found right here in Britain. To try our special British Food Fortnight Menu, why not give us a call to book a table in The Brasserie on 01271 862446.
Experience the Foodie Fortnight
For those eager to experience the full Foodie Fortnight experience, we're offering a special accommodation package for a 2-night stay during the week commencing September 25th. This package includes a three-course dinner in our Brasserie each night, freshly cooked breakfast, a bottle of English wine in your room or the lounge, and an afternoon tea on one of the days. It's the perfect way to immerse yourself in the local food culture here in Ilfracombe all from £94pppn based on two people sharing a twin or double room.
Join the Movement – Buy British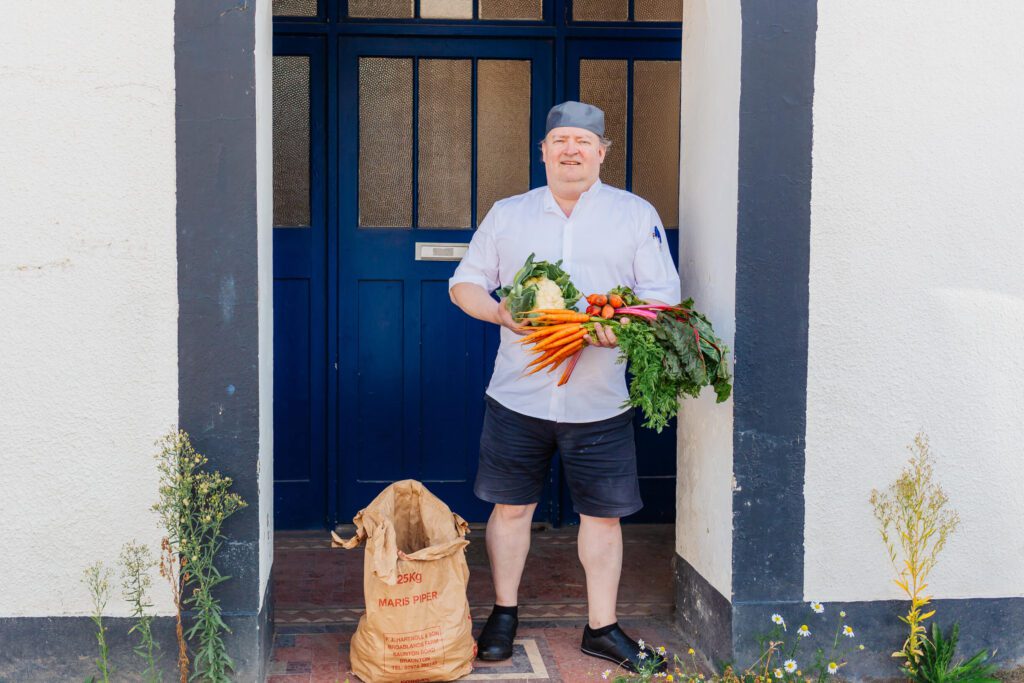 Photo Credit: Becky Craven
Whilst British Food Fortnight does a great job at highlighting the importance of buying British throughout September and October, we believe this is important all year round. We need to consistently support our farmers and food producers if we want to ensure food security for the nation.
So let's celebrate British Food Fortnight and commit to buying British not just during this special fortnight but throughout the year. By doing so, we secure our food security for the future and savour the wonderfully diverse and delicious food that our glorious country produces.
Beyond British Food Fortnight
As British Food Fortnight ends, we also look forward to October, which kicks off National Seafood Month. It's another opportunity to explore the wide variety of fish and shellfish available in the UK and continue enjoying the culinary treasures of North Devon.
At the Carlton, we're dedicated to promoting the local food scene and embracing the flavours of Britain. Join us in celebrating British Food Fortnight and savour the remarkable tastes of our region. Your support for British food not only indulges your taste buds but also strengthens our local economy and promotes a sustainable future for food production.
Visit our contact page or call 01271 862446 to reserve a table in the Brasserie or book your 2-night stay.