Here are The Carlton, we love to showcase individual local art on our walls. We especially enjoy art inspired by the local area and our picture perfect land and seascapes. We are so lucky to have so many talented local artists, great independent art galleries and The Art Trail that draws so many visitors to stay at The Carlton year after year. Why not pop in to take a peek and perhaps enjoy some good food, drink and company while you're here. Here's a selection of artists we feature.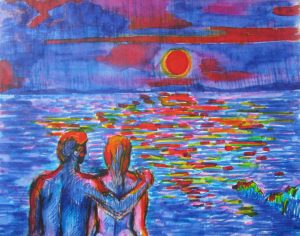 John Wood Cock Art
Although John also lived and worked in London, Birmingham, Coventry and many other places in the UK during his life, e felt that Ilfracombe was his true home – the town he grew up in and to which he later returned to paint and draw. His influences were Picasso, Diebenkorn, Appel, De Stael, Giorgione, Bellini, Gauguin, Pollock, Huston, later referring to Elizabethan, Egyptian and Aztec culture, and costume stylistically. Sci Fi, space travel, and the Lost city of Atlantis thematically. Also symbolism and Religious Iconography played their part. He used a variety of traditional media, house emulsion pain, enamel paint, metal powders, eggshell, rice, cigarette ends, teabags, polystyrene tile, scrim mesh, and computer generated collage.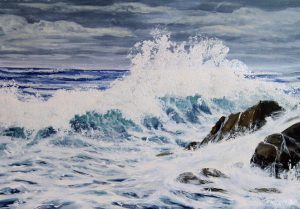 Paul Swailes Art
Paul creates contemporary seascape paintings inspired by our changing sea and skies. Please contact him direct on paulrswailes@gmail.com to arrange a viewing.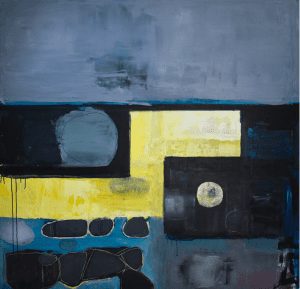 Glen Berning
Glen is drawn to the energy around him. The force of the sea pounding surf, the motion of a landscape, the way objects in nature are in tune to one another. How one motion affects the next is a continuing source of fascination. Glen spends much time walking on Exmoor and the surrounding beaches collecting stone, driftwood, metal and objects to inspire him and give him a starting point in the early stages of his work.
Glen layers colours, plays with space, and contrast the solid with ephemeral the fixed with fluid to replicate the forces of nature at work. In his paintings, time is suspended, a fine line between order and chaos. The surface is calm, but the tension is ever present. Everything pulsates with life, on the verge of movement and change, colour is integral to his work, to create vibrant canvases.
Glen adheres to modern traditions in paining so colour for him us a vehicle of expression, influenced by artists such as Barque Patrick Heron, Jackson Pollock, Beacon and Howard Hodgkin he alike. With a little open mindedness and imagination, abstract art can be understood. Glen is usually working at Studio Blacksands in Ilfracombe so available to open the gallery for private viewings out of normal hours, please contact him direct on berningart@gmail.com to arrange a viewing.